Image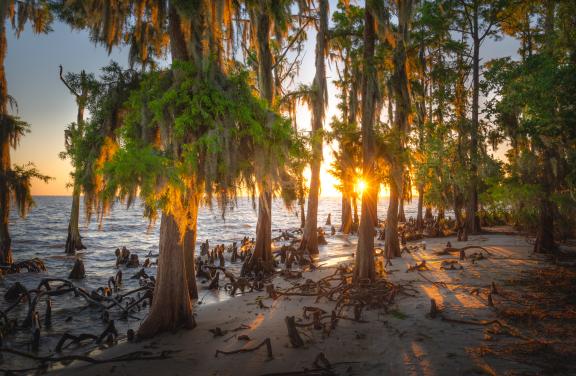 ---
Fontainebleau State Park  sustained significant damage from Hurricane Ida in 2021.  Park campgrounds reopened Sept. 24. Cabins remain closed until further notice.
Updated  06/01/2023
More Information
Read below for important information from Lake Fausse Pointe Water System.
For more information, please contact:
Billy Furlow, Park Manager
Lake Fausse Pointe State Park
5400 Levee Rd
St. Martinville, LA 70582
(337) 229-6173
[email protected]
Lake Fausse Pointe Water System Failed to Take Corrective Action Following Identification of a Significant Deficiency
More Information
Cypremort's cabin 2, an ADA compliant unit, is under construction for repairs. Cabin 2 is available for bookings, but guests should be aware there is no elevator.
Also, details about the DHH beach monitoring program (May 1 – October 31 annually) can be found at the following link. 
More Information
Welcome to Louisiana State Parks
Louisiana's state parks and historic sites are a great way for visitors to experience the Sportsman's Paradise. Book a cabin or campsite and see for yourself why our State Parks system is the best!

---





Louisiana State Parks is seeking public-private partnerships to implement projects that enhance visitor experiences and generate additional revenue. A Request for Proposal (RFP) is now open for opportunities available in all state parks. Project examples include both infrastructure and building construction opportunities such as cabins, pavilions, nature centers, road repaving, and RV campground upgrades like adding full sewer hookups. Click the button on the left to learn more. 
Stay in a Louisiana State Park
---
Overnight reservations maybe made for cabins, lodges, group camps and campsites.
Louisiana State Parks Announcements and Press Releases
---
There are many exciting Louisiana State Parks projects underway. Get updates, announcement and the latest news!