Image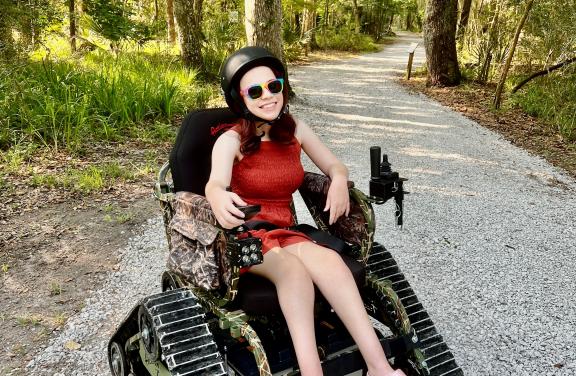 All-Terrain Chairs Now Available
All-terrain track wheelchairs are available for use at eight Louisiana State Parks.  The all-terrain, electric-powered chairs are specially designed to be used on designated park trails not suitable for conventional wheelchairs.
Requirements 
(For full details, please refer to the User Agreement, Usage Requirements and Operating Instructions documents located below)
ATC user must be accompanied at all times by a companion  18 years of age or older who is in good physical condition to navigate Office of State Parks' property.
Picture ID must be presented by user and companion to OSP staff upon arrival for reservation. The names must match the reservation on file.
User Agreement & Waiver and Release of Liability Form must be signed after training, in front of the OSP staff member who provided the training, to check out the ATC.
Users and companions must arrive 30 minutes prior to their preferred start time to complete in-person all-terrain chair training.
No person under 16 years of age shall operate, ride, or be otherwise propelled on an ATC unless the person wears a safety helmet meeting United States Department of Transportation standards and eye protection. Users are encouraged to bring their own protective gear. In the event protective gear is needed, OSP will provide helmets and eye protection.
Documents:
        User Agreement, Waiver and Release of Liability Form 
        Usage Requirements
        Operating Instructions
How to Reserve
Reservations must be made at least 48 hours in advance directly through the park.
Available for rent between the hours of 8:30 a.m. and 2 p.m. (Port Hudson and LA State Arboretum at Chicot are available from 9:30 a.m. and 2 p.m.)
Reserve an all-terrain chair at one of the following parks by clicking on the buttons below
      LA State Arboretum at Chicot State Park
      Port Hudson State Historic Site 
Questions 
        Contact the state park your reservation is booked through for questions or concerns.
    Disclaimer: Office of State Parks staff has the right to cancel reservations and refuse the use of the all-terrain chair at any Office of State Parks facility at any time.