Image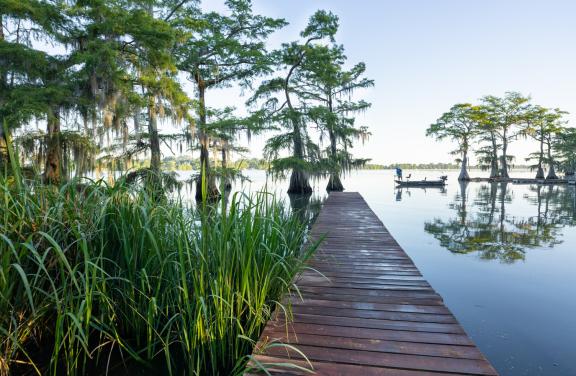 ---
The boat launch is closed until further notice due to the low water level on the lake from the scheduled drawdown. The boat launch will reopen once the water level rises enough to safely launch a boat.
The Lake Bruin Lake Commission began drawdown of the lake  Sept. 1, 2022. For more information about the drawdown, go to the commission's Facebook page at https://www.facebook.com/lakecommission
More Information
All boardwalk trails at Tickfaw State Park are currently closed due to severe damage caused by Hurricane Ida.  Canoe rentals are also currently unavailable.  Two trails are currently open to the public – the hardwood trail and the trail around the fishing pond. 
More Information
The following parks received significant damage from Hurricane Ida in 2021 :
Fontainebleau State Park  - campgrounds reopened Sept. 24. Cabins remain closed until further notice.
Grand Isle State Park - sustained serious damage and will remain closed until further notice.
Updated  07/01/2021
More Information
Welcome to Louisiana State Parks
Louisiana's great outdoors and state parks are a great way for visitors to see the Sportsman's Paradise while visiting our recreational and historic sites. So book a cabin and see for yourself why our State Parks system is the best!
Stay in a Louisiana State Park
---
Overnight reservations maybe made for cabins, lodges, group camps and campsites.
Louisiana State Parks Announcements and Press Releases
---
There are many exciting Louisiana State Parks projects underway. Get updates, announcement and the latest news!