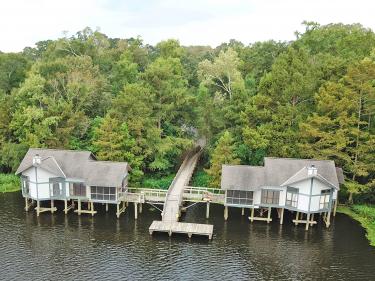 ---
Lake Chicot Drawdown: The Louisiana Department of Wildlife and Fisheries (LDWF) scheduled a drawdown of Lake Chicot beginning September 5, 2023 to reduce giant salvinia and improve fish habitat. The water will be lowered at a rate of 1.5 inches per day until the level reaches 3 feet below normal pool stage.
More Information
3469 Chicot Park Road
Ville Platte, LA 70586
United States
Hours of Operation
Site is open daily.
Gate Opening Times:
Sunday through Thursday
open at 6 a.m.
close at 10 p.m.
Friday, Saturday and days preceding holidays.
open at 6 a.m.
close at 10 p.m.
Entrance Station Hours:
Sunday through Thursday
Friday, Saturday and days preceding holidays.
Admission/Entrance Fees
$3 per person
Free for seniors (62 & older)
Free for children (3 & under)
The park covers over 6,400 acres of rolling hills and water in South Central Louisiana. The cool, clear waters of Lake Chicot have yielded record freshwater catches of largemouth bass, crappie, bluegill and red-ear sunfish. Fishermen will enjoy the convenient boathouse, three boat launches and boat rental facilities.
An extensive hiking/backpacking trail completely encircles Lake Chicot and includes several primitive campsites along the way. The hiking trails allow visitors to experience and enjoy the park's natural landscape, its bottomland hardwood forest and the lake itself. For visitors who enjoy a quicker pace, much of the trail is geared toward mountain bikers, and all cyclists are welcome to ride the roadways throughout the park.
The South Landing includes cabins, a group camp, picnic areas and playground, a water playground, a boat launch, a fishing pier and a dock with rental boats. A scenic road links the South Landing with the North Landing.
The North Landing features campsites, a boat launch, a dock, a 400 ft. fishing pier and a primitive group-camping area. Lodges also are located in this area.
The East Landing is accessible from LA 106. It is less developed than the other two areas. It includes a boat launch, a dock, a meeting room and a barbeque pavilion, which makes this area ideal for day visitors.
The Louisiana State Arboretum, located within Chicot State Park, is home to a magnificent mature beech-magnolia forest and features an outdoor classroom and several miles of nature trails with labeled plant life native to Louisiana.
Image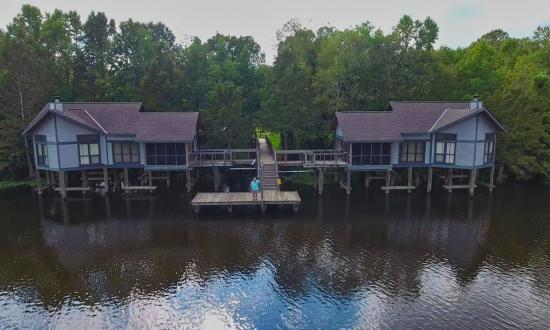 Image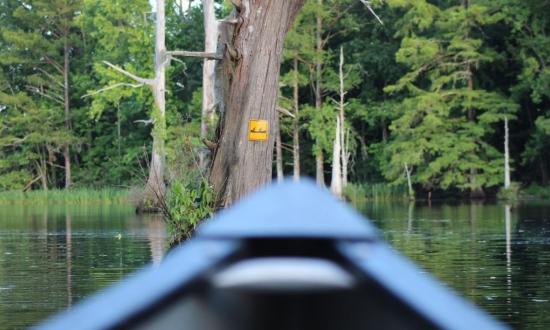 Image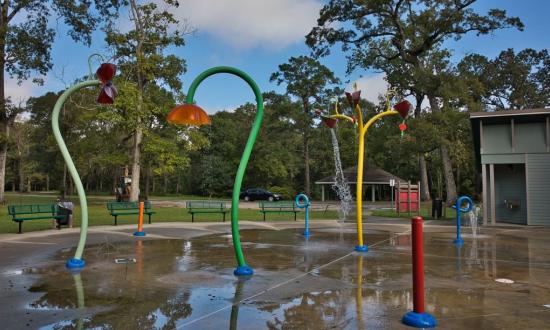 Image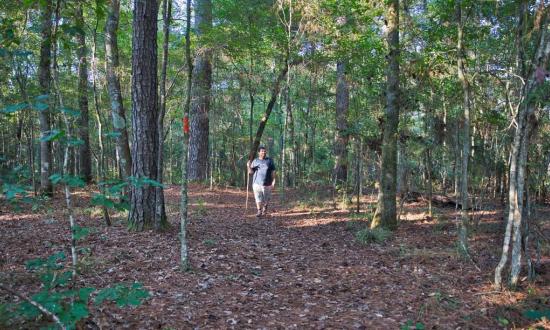 Features
Swimming/Water Playgrounds
Other Rates
Use of Personal Golf Carts on State Park Property
$10/cart per day
$100 annual permit available.
Proof of cart insurance required; must be operated by a licensed driver.
State Park Boat Rentals
Canoes-$25 per day.
Boats-$20 per day.
Includes 2 paddles and 3 life jackets. Additional life jackets can be rented for $2 each where available.
All-Terrain Track Chair Rental
 Rental is free. All-terrain chair must be reserved at least 48 hours in advance.  Available for rent between the hours of 9:30 a.m. and 2 p.m.
Trails At Chicot State Park
20-mile hiking trail
8-mile canoe trail
Water Playground 
Louisiana State Parks' water playgrounds operate Tuesdays through Sundays from 8 a.m. to 8 p.m.; the facilities will be closed on Mondays for cleaning and maintenance. Please contact the park directly, to confirm that the playground is open or for additional information.
Birding
A Birder's Guide to Louisiana gives directions to over 100 areas for birding throughout the state, includes maps, Louisiana specialties, and contains beautiful photography and checklists of Louisiana birds and other wildlife. The Guide was produced through a partnership between the Atchafalaya National Heritage Area and the American Birding Association.
State Park Operated Rentals