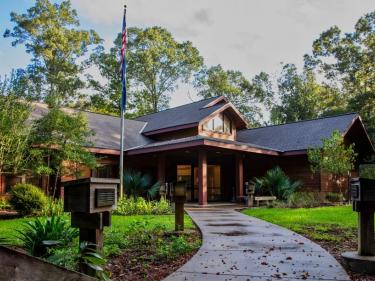 1300 Sudie Lawton Lane
Ville Platte, LA 70586
United States
Hours of Operation
Site is open daily Sunday - Saturday
Closed Thanksgiving, Christmas and New Year's Day
Gate Opening Times
Open at 9 a.m.
Closed at 5 p.m.
Admission/Entrance Fees
Entrance to the Louisiana State Arboretum SPA and its trail system is free to all visitors.
Visitors going to the J.D. "Prof" LaFleur Nature Center must enter through Chicot State Park, and pay the $3/person
(free for ages 62+ and 3 and younger) entrance fees.
Established in 1961, the Louisiana State Arboretum was the first such area in the South and the first state-supported arboretum in the United States. To help preserve the Arboretum for future generations, removing or damaging any plants or animals is strictly prohibited. Pets and picnicking are not allowed on the grounds due to the preservation status of this site. Picnic grounds and camping facilities are available at nearby Chicot State Park. 
The Louisiana State Arboretum is large – more than 600 acres of natural growth, embellished with additional plantings of species that are indigenous to the state. Atypical of the terrain in the Louisiana prairieland, the topography of the Arboretum is varied and dramatic. The landscape ranges from nearly flat along the Walker Branch of Lake Chicot to relatively steep slopes along the terrace ridges. Due to this great variation in topography, almost every type of Louisiana vegetation, except coastal marsh and prairie, is represented on the site.
A Visitor Center, located within Chicot State Park and dedicated to the memory of J.D. "Prof" LaFleur, an outdoor enthusiast instrumental in establishing the Arboretum, houses interactive exhibits and meeting facilities. Nature trails take you deep into the wooded areas and longer trails take you along Walker Branch or Ferguson's Gully where several of the footpaths converge. If you walk the trails quietly, you'll discover that sycamores, maples, beeches, magnolias, hickories, ferns, and crane fly orchids are not the only living things in the arboretum. There's a good chance that you'll encounter some two-and four-legged critters, too: white-tail deer, wild turkey, raccoon, opossum, fox, skunk, squirrel, and numerous species of birds.
Botanists, horticulturists, college students, youth groups, solitary nature lovers, and people of all ages are all attracted to this beautiful and fascinating place. No matter how you walk along the trails – whether carefully, with the attentive eye of a scientist, or at full tilt with the carefree heart of a child – the Louisiana State Arboretum promises to be a memorable experience. Enjoy and please remember — take only pictures, leave only footprints.
Image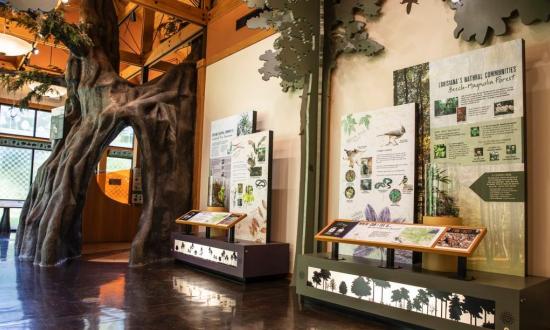 Image
Image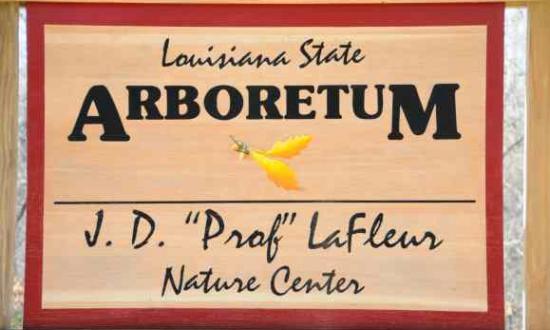 Nearby Louisiana State Arboretum State Preservation Area
Other Rates
All-Terrain Track Chair Rental
Rental is free. All-terrain chair must be reserved at least 48 hours in advance.  Available for rent between the hours of 9:30 a.m. and 2 p.m.  
Hiking
Walker Branch Trail – 1.5 miles
Backbone Ridge Trail – 1.25 mile
Paw Paw Loop – 1.25 miles
Wetland Trail – 0.7 mile
Baldcypress Trail – 500 ft.
Birding
A Birder's Guide to Louisiana gives directions to over 100 areas for birding throughout the state, includes maps, Louisiana specialties, and contains beautiful photography and checklists of Louisiana birds and other wildlife. The Guide was produced through a partnership between the Atchafalaya National Heritage Area and the American Birding Association.