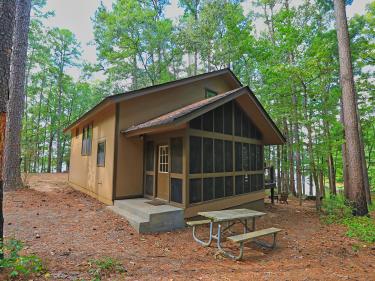 225 State Park Road
Homer, LA 71040
United States
Hours of Operation
Site is open daily.
Gate Opening Times:
Sunday through Thursday
open at 6 a.m.
close at 10 p.m.
Friday, Saturday and days preceding holidays.
open at 6 a.m.
close at 10 p.m.
Entrance Station Hours:
Sunday through Thursday
Friday, Saturday and days preceding holidays.
Admission/Entrance Fees
$3 per person
Free for seniors (62 & older)
Free for children (3 & under)
Take your pick: swimming, fishing, birding, boating of all kinds, waterskiing, camping, hiking or just plain relaxing and enjoying the unsurpassed natural beauty. It's all here . . . at Lake Claiborne State Park. For fishermen, the freshwater lake was lavishly stocked with largemouth bass, bluegill sunfish, channel catfish, black crappie, striped bass, chain pickerel, bream, and white perch. The lake itself, at full reservoir level, has a surface area of 6,400 acres.
Two-bedroom cabins are nestled among the pine trees, and many offer a view of the lake. The RV campground rests among the slopes of the north Louisiana foothills, offering shaded spots to get closer to nature. Whatever your preference for an overnight stay, you'll be sure to rest peacefully.
One of the most popular activities for visitors of all ages is swimming at the park's sandy beach. The beach is situated on an inlet of the lake and is protected from boats and waterskiers. So work up an appetite for that fresh fish supper by taking a brisk swim in Lake Claiborne's famous clear water. Ecologists and sportsmen alike hail the lake's excellent water quality, and you will too, once you've made the trip to Lake Claiborne. Once on-site, you will see the area come to life as a park naturalist will be available to present nature-based programs and give guided hikes.
Lake Claiborne SP offers the #1 and #2 ranked disc golf courses in the state. Both courses offer 2 sets of tee pads, the Blue tees are for the skilled players and the Red tees for the newer players or first timers at the park. Families are encouraged to check out discs at the fee station on their next visit. Both courses start and end at the entrance. Scorecards and maps are available to the fee station or in the below "Disc Golf" section.
The woods of Lake Claiborne are also home to a wide variety of wildlife. Lovely nature trails and a scenic overlook will allow you to appreciate the beauty of the area at your own pace. Or you may be interested in a variety of nature tours, offered on a regular basis.
Image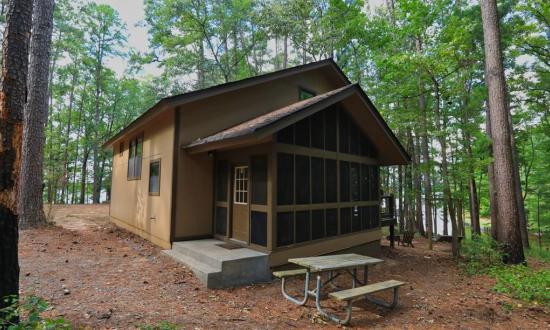 Image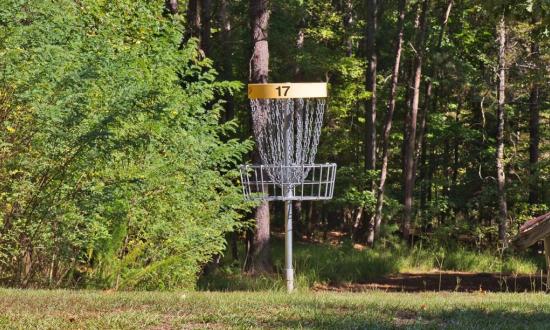 Image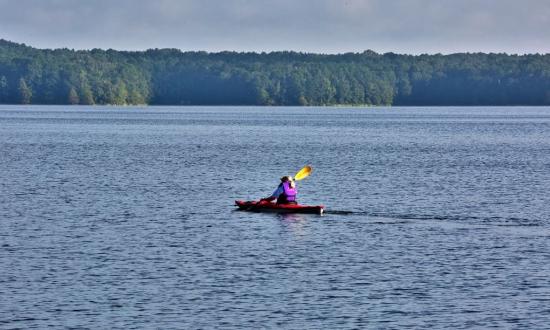 Image
Features
Swimming/Water Playgrounds
Nearby Lake Claiborne State Park
Facilities
A $4.5 non-refundable fee will be assessed on each reservation transaction made online, via phone, or as a walk-in.
Cabins: Basic cookware, cooking utensils, dinnerware, silverware, towels and linens are provided. Bring your own food and personal supplies.
Deluxe Cabins
$150/night plus tax, Sun-Thurs
$175/night plus tax, Fri-Sat
10 available, 2 are ADA compliant; sleeps up to 8 people with 1 double bed, 2 bunk beds and 1 double sofa sleeper *Master bedrooms in ADA Cabins 7 and 8 are upstairs. They are not accessible by wheelchairs.
Pavilion
Maximum Occupancy of 60 people. *Unit is equipped with electrical lighting.
Meeting Room
Capacity is 100 people for both Conference and Theatre set-ups
Other Rates
Use of Personal Golf Carts on State Park Property
$10/cart per day
$100 annual permit available.
Proof of cart insurance required; must be operated by a licensed driver.
State Park Boat Rentals
Kayaks-$7 per hour/$35 per day.
Flat Bottom Boats-$7 per hour/$35 per day.
Includes 2 paddles and 3 life jackets. Additional life jackets can be rented for $2 each where available.
Canoes/Kayaks
$7 per hour or
$35 per day
Includes paddles, life jackets. Additional life jackets can be rented for $2 each where available. Price varies with concessionaire rentals - please contact site to check availability and rates
Trails at Lake Claiborne State Park
White Tail Hiking Trail – 6 miles
Dogwood Nature Trail – 0.14 mile
Muscadine Hiking Trail – 1/2 mile
King of the Mountain Nature Trail – .45 mile
Scenic Overlook Path – 1/2 mile
Whispering Pines Bike Trail – 5 miles
Disc Golf
Lake Claiborne SP offers two 18-basket disc golf courses.
White Tail Scorecard and Map   - Measuring 7391 ft., the Whitetail is the most difficult of the two courses. It winds through the camping areas all the way to the scenic hole 10 that gives golfers a chance to rest and enjoy beautiful Lake Claiborne.
Dogwood Scorecard and Map   - This course is slightly shorter than its sister course. Measuring in at 5281 ft., it's better to play when you're short on time. The Dogwood course winds through the South side of the park and ends back at the fee station.
Birding
A Birder's Guide to Louisiana gives directions to over 100 areas for birding throughout the state, includes maps, Louisiana specialties, and contains beautiful photography and checklists of Louisiana birds and other wildlife. The Guide was produced through a partnership between the Atchafalaya National Heritage Area and the American Birding Association.