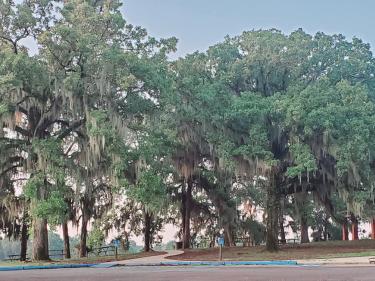 ---
By order of the Louisiana State Fire Marshal, a statewide burn ban remains in effect which prohibits all private burning. The order DOES allow outdoor cooking within contained cooking equipment that is designed for cooking purposes like grills and smokers with a water source or fire extinguisher nearby.  The fuel source for the equipment (propane, charcoal, pellets, etc.) is not a factor in its acceptable use. The use of open flames in fire pits, campfires, barrels, bonfires, etc. remains prohibited at this time.
More Information
103 State Park Road
Doyline, LA 71023
United States
Hours of Operation
Site is open daily.
Gate Opening Times:
Sunday through Thursday
open at 8 a.m.
close at 10 p.m.
Friday, Saturday and days preceding holidays.
open at 8 a.m.
close at 10 p.m.
Entrance Station Hours:
Sunday through Thursday
Friday, Saturday and days preceding holidays.
Admission/Entrance Fees
$3 per person
Free for seniors (62 & older)
Free for children (3 & under)
Situated on the western shore of Lake Bistineau, this park offers a satisfying blend of beautiful vistas and outstanding recreational facilities. Memorable for its upland mixed hardwood forest, its open waters, and its enchanting stands of cypress and tupelo trees, the park offers two boat launches, hiking and biking trails, playgrounds, camping, cabins and excellent fishing!
Beginning in January with the "yo- yo" season and lasting through the spring, summer, and early fall, the dedicated fisherman can draw such freshwater catches as black crappie, largemouth bass, yellow bass, catfish, bluegill, and red-ear sunfish from the lake's clear waters.
Lake Bistineau dates back over 200 years. It began in 1800 when several thousand acres of land were flooded due to a gigantic log jam in the Red River. Gradually, however, as the area was dredged, the lake began to drain. Then in 1935, a permanent dam was built across Loggy Bayou, creating the present-day Lake Bistineau. The dam has since been enlarged, giving the reservoir a surface area of 26.9 square miles, with an average depth of seven feet and a maximum depth of 25 feet.
Area 1 is located in the main section of the park, with cabins, and a group camp. Picnicking along the lake is tremendously popular at numerous sites equipped with tables, grills, and nearby restrooms. Several picnic pavilions are also available for larger groups. The park's trail system encompasses nearly 10 miles of woodland trails and an 11-mile canoe trail, for visitors who want to see the park's beauty from the water.
Image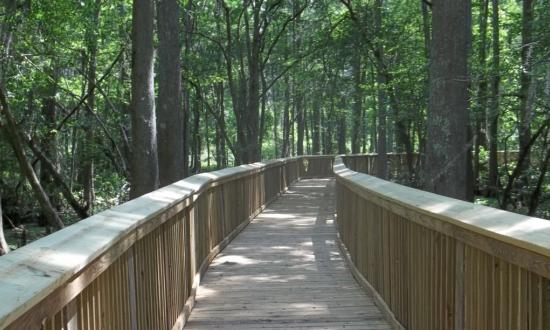 Image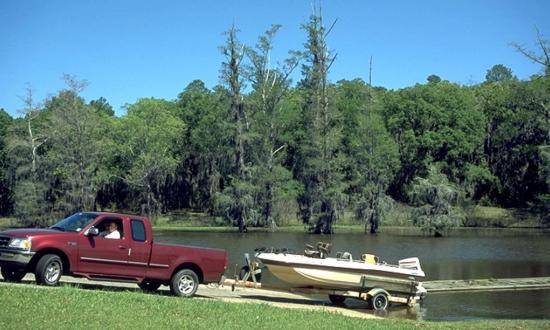 Image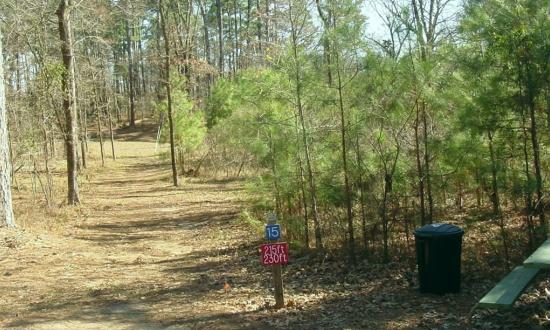 Image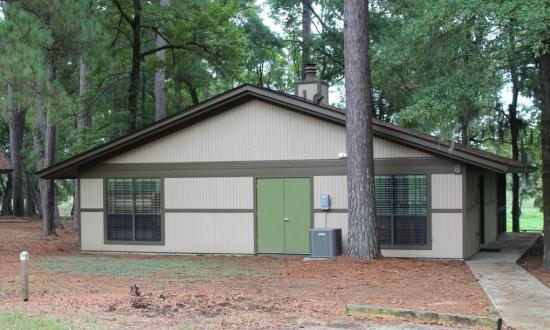 Nearby Lake Bistineau State Park
Camping
A $4.5 non-refundable fee will be assessed on each reservation transaction made online, via phone, or as a walk-in.
17 Premium Campsites
$33/night plus tax, Fri-Sat
$30/night plus tax, Sun-Thurs, Apr-Sept
$25/night plus tax, Sun-Thurs, Oct-Mar
5 pull-through campsites, 12 prime location campsites, all with water and electrical hookup
44 Improved Campsites
$28/night plus tax, Fri-Sat
$25/night plus tax, Sun-Thurs, Apr-Sept
$20/night plus tax, Sun-Thurs, Oct-Mar
Water and electrical hookups
America the Beautiful Senior and Access Passes
Other Rates
Use of Personal Golf Carts on State Park Property
$10/cart per day
$100 annual permit available.
Proof of cart insurance required; must be operated by a licensed driver.
State Park Boat Rentals
Flat Bottom Fishing Boats-$5 for an hour/$20 for a day.
Canoes-$7 for an hour/$25 for a day.
Kayaks-$7 for an hour/$35 for a day.
Includes 2 paddles and 3 life jackets. Additional life jackets can be rented for $2 each where available. Price varies with rentals - please contact site to check availability and rates.
Note on Boating & Fishing:
To combat salvinia, the state Department of Wildlife & Fisheries will draw down the lake August through November annually. The park's boat launch will close during this time, as the lake will be at levels unsafe for boat use.
Trails at Lake Bistineau State Park
Willis Homestead Trail – 3.8 miles [TRAIL GUIDE TO FLORA ALONG THE TRAIL, courtesy of Riley Troop 1358's Girl Scout Gold Award project]
Blue Wing Trail – 1.2 miles
Koasati Trail – 2.0 miles
Pintail Loop Trail – 1.3 miles
Discovery Circle – .4 miles
6-mile Equestrian Trail:

Equestrian trails at State Parks sites are open to riders and their own horses. There is a $3/horse per day trail fee, in addition to the normal day-use entrance of $3 per person; overnight campsites can be rented for $22 to $28 per night. Certification of a clean Coggins test is required for all horses brought on State Park property. It is recommended that you call ahead for the status of the trail.
Disc Golf
Lake Bistineau SP offers disc golf; the course is located near the group camp. Click HERE for a full-size map.
Birding
A Birder's Guide to Louisiana gives directions to over 100 areas for birding throughout the state, includes maps, Louisiana specialties, and contains beautiful photography and checklists of Louisiana birds and other wildlife. The Guide was produced through a partnership between the Atchafalaya National Heritage Area and the American Birding Association.