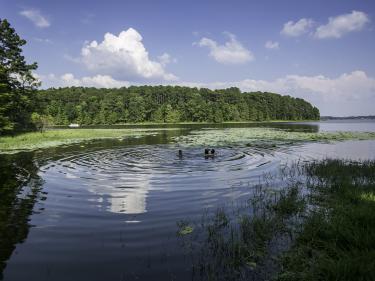 ---
By order of the Louisiana State Fire Marshal, a statewide burn ban remains in effect which prohibits all private burning. The order DOES allow outdoor cooking within contained cooking equipment that is designed for cooking purposes like grills and smokers with a water source or fire extinguisher nearby.  The fuel source for the equipment (propane, charcoal, pellets, etc.) is not a factor in its acceptable use. The use of open flames in fire pits, campfires, barrels, bonfires, etc. remains prohibited at this time.
More Information
2907 North Toledo Park Road
Zwolle, LA 71486
United States
Hours of Operation
Site is open daily.
Gate Opening Times:
Sunday through Thursday
open at 6 a.m.
close at 10 p.m.
Friday, Saturday and days preceding holidays.
open at 6 a.m.
close at 10 p.m.
Entrance Station Hours:
Sunday through Thursday
Friday and Saturday
Admission/Entrance Fees
$3 per person
Free for seniors (62 & older)
Free for children (3 & under)
Located on Toledo Bend Reservoir, one of the country's largest man-made reservoirs, North Toledo Bend State Park provides a venue for a wide variety of water-related activities in a pleasant environment. And for land-based activities, more than 900 acres are available for camping, picnicking, hiking, and relaxing in the heart of nature.
Available day-use facilities include a meeting room which can be reserved for group functions, a full size swimming pool with restrooms for the summer season, and a laundry with all the conveniences for a long or short stay in the park. Nearby are entrances to two hiking/biking trails - a 1.5-mile loop and a more demanding 4-mile loop.
A boat launch with a double ramp, a large parking lot, boat rentals, and a fish cleaning station, provides access to the reservoir. Organizations associated with the Toledo Bend Reservoir host numerous freshwater fishing competitions which attract fishermen from around the country. Fishing, swimming, boating, hiking, picnicking, and relaxing – all of these activities and more are yours to enjoy at North Toledo Bend State Park.
Image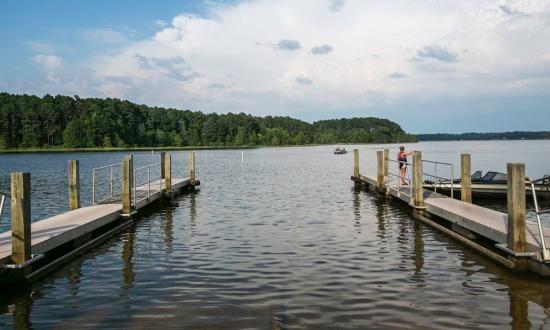 Image
Image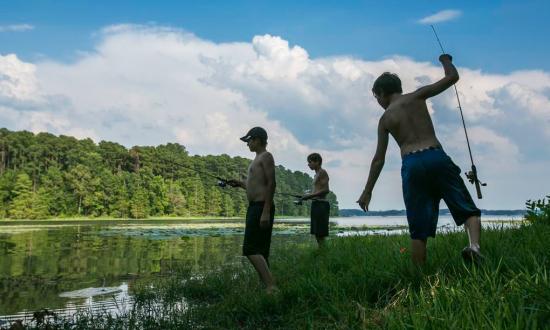 Image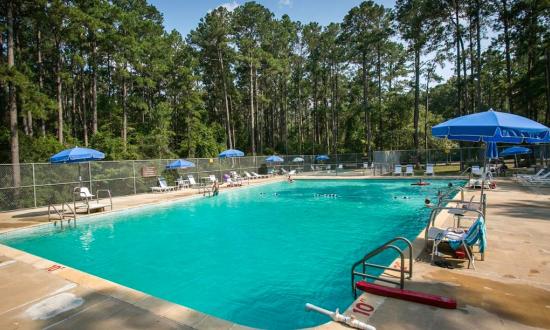 Features
Swimming/Water Playgrounds
Other Rates
Use of Personal Golf Carts on State Park Property
$10/cart per day
$100 annual permit available.
Proof of cart insurance required; must be operated by a licensed driver.
State Park Boat Rentals
Flat Boats-$20 per day.
Canoes-$7 per day/$25 per hour.
Kayaks-$7 per hour/$25 per day.
Includes 2 paddles and 3 life jackets. Additional life jackets can be rented for $2 each where available.
Trails at North Toledo Bend State Park
Trail A – 1-1/2 miles
Trail B – 4 miles
Swimming Pool
Pools are open Memorial Day weekend to August 1 and closed Monday-Wednesday for maintenance, except for holiday Mondays. When pools are open on a holiday Monday, the pools will be closed for maintenance on the Tuesday-Thursday following the holiday Monday.
From August 1 through Labor Day, pools will be open on modified schedules. Please check with the individual parks for specific days and hours of operation. All pool schedules are subject to change.
Birding
A Birder's Guide to Louisiana gives directions to over 100 areas for birding throughout the state, includes maps, Louisiana specialties, and contains beautiful photography and checklists of Louisiana birds and other wildlife. The Guide was produced through a partnership between the Atchafalaya National Heritage Area and the American Birding Association.