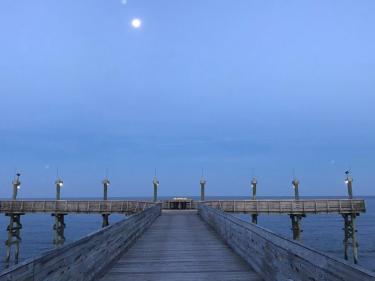 ---
Grand Isle State Park is open.  Due to damage caused by Hurricane Ida, the boardwalks are currently closed. Please note, access points to the beach and campsites are limited at this time. The distance from the parking lot to the beach is approximately a 150-yard walk. 
More Information
Admiral Craik Drive
Grand Isle, LA 70358
United States
Hours of Operation
Gate Opening Times:
Sunday through Thursday
Friday, Saturday and days preceding holidays.
Entrance Station Hours:
Sunday through Thursday
Friday, Saturday and days preceding holidays.
Admission/Entrance Fees
$3 per person
Free for seniors (62 & older)
Free for children (3 & under)
A beach ridge created by the action of the waves of the Gulf, Grand Isle serves as a breakwater between the Gulf and the network of inland channels that connect to the bayou tributaries of the Mississippi River. It is also the launching point for excellent deep-sea salt-water fishing adventures.
Every July, a Tarpon Rodeo attracts thousands of fishing competitors to these prolific waters offshore. Speckled trout can be caught by surf fishers year round, especially in the spring and summer. Redfish venture into the range of the surf fishermen in the fall and winter.
The warm Gulf waters are enjoyed by swimmers most of the year, and Grand Isle State Park offers an excellent location for splashing in the surf. Birding enthusiasts will also delight in the beauty of the lagoons and the Gulf shore. This unique environment attracts numerous species of birds and other wildlife, so bring your binoculars or a camera to enjoy the opportunity to view nature unspoiled.
So take a trip to the edge of Louisiana. Fishing, birding, swimming, crabbing, hiking, sunning, boating, or just relaxing – Grand Isle State Park gives you the best of Grand Isle.
Special Note On Traveling to Grand Isle State Park:
All drivers traveling southbound must pay the toll to cross the bridge. The toll can be paid in cash at the toll booth or with a GeauxPass; for more information, visit geauxpass.com.
Image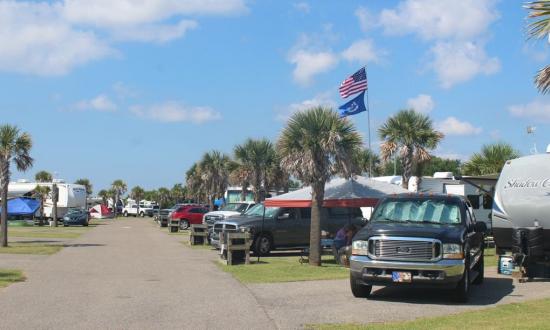 Image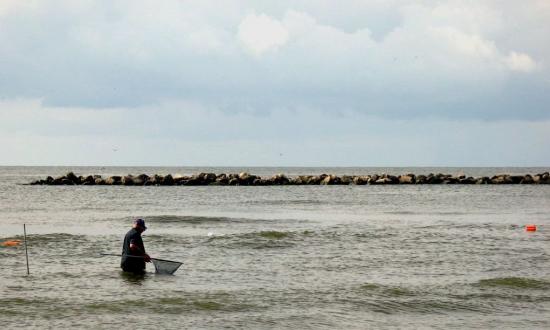 Image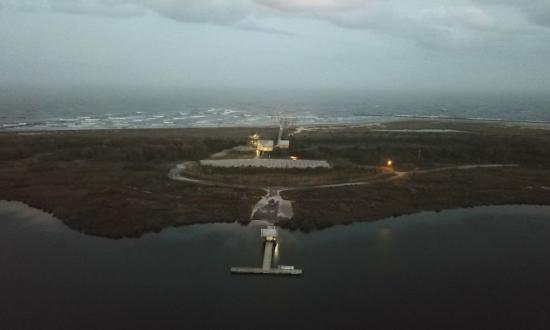 Image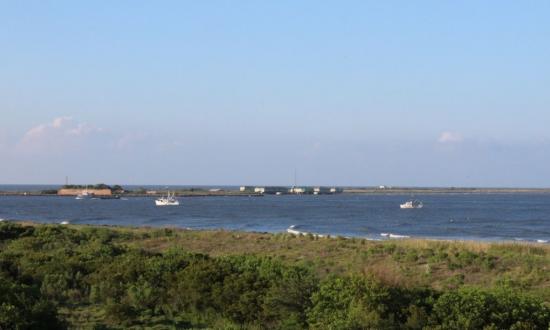 Features
Swimming/Water Playgrounds
Nearby Grand Isle State Park
Other Rates
Use of Personal Golf Carts on State Park Property
$10/cart per day
$100 annual permit available.
Proof of cart insurance required; must be operated by a licensed driver.
Trails at Grand Isle State Park
2.5 mile nature trail
Birding
A Birder's Guide to Louisiana gives directions to over 100 areas for birding throughout the state, includes maps, Louisiana specialties, and contains beautiful photography and checklists of Louisiana birds and other wildlife. The Guide was produced through a partnership between the Atchafalaya National Heritage Area and the American Birding Association.
Beach Safety At Grand Isle State Park
Click image for larger version 
Visitors must be aware that the park is located directly on the Gulf of Mexico, and subject to naturally-occurring marine life as well as heavy currents and rip currents. Following are safety tips for enjoying the beach:
Never swim alone. Always swim with a buddy.
Avoid rip currents. Watch for dangerous waves and signs of rip currents (e.g., water that is discolored and choppy, foamy, or filled with debris and moving in a channel away from shore).
Take swimming lessons.
Learn CPR.
Never dive into water unless you are 100% certain it is deep enough. Shallow water, underwater logs, big rocks or other debris are all dangerous when you are diving into the Gulf, rivers, lakes or swimming holes. Diving head first can cause serious injury.
Do not swim in areas that have posted warnings against swimming there.
Be aware that some marine life, such as dolphins and larger fish, often come into the shallower waters and can 'steal' bait or pull fishers into deeper, and more dangerous water.
Stingrays and jellyfish are being seen increasingly in the Louisiana Gulf waters. Shuffling your feet as you walk in the water will often cause stingrays to swim away.
Stingray stings can be treated by cleaning the area with fresh water, and soaking in hot water; and jellyfish stings can be rinsed in saltwater, followed by a vinegar rinse. FEEL FREE TO CONTACT PARK STAFF FOR ASSISTANCE.
Use alcohol responsibly around water, and avoid its use entirely when supervising children.
Glass containers are not allowed on the beach
More about rip currents
Water can look calm on the surface, but be aware of currents under the surface. Whether you're swimming in a lake, river or ocean, underwater currents exist and can put you in danger. If you are caught in a rip current, swim parallel to shore; once free of the current, swim toward shore. If someone you are with is caught in a rip current, try to direct them to swim parallel the shore, using arm motions. Life rings are stationed along the beach, to use in rescue situations. Wind, tide and currents all contribute to water's conditions. If you have questions or concerns about swimming conditions, ask park staff. For more information about beach swimming safety, visit NOAA's website.
Please note, that as the beach at Grand Isle State Park is a designated swimming area, dogs are not allowed on the beaches or in the water. Additionally, glass containers are not allowed on the beach. Your cooperation is appreciated