---
By order of the Louisiana State Fire Marshal, a statewide burn ban remains in effect which prohibits all private burning. The order DOES allow outdoor cooking within contained cooking equipment that is designed for cooking purposes like grills and smokers with a water source or fire extinguisher nearby.  The fuel source for the equipment (propane, charcoal, pellets, etc.) is not a factor in its acceptable use. The use of open flames in fire pits, campfires, barrels, bonfires, etc. remains prohibited at this time.
More Information
14656 State Park Road
Bastrop, LA 71220-7078
United States
Hours of Operation
Site is open daily.
Gate Opening Times:
Sunday through Thursday
open at 6 a.m.
close at 10 p.m.
Friday, Saturday and days preceding holidays.
open at 6 a.m.
close at 10 p.m.
Entrance Station Hours:
Sunday through Thursday
Friday, Saturday and days preceding holidays.
Admission/Entrance Fees
$3 per person
Free for seniors (62 & older)
Free for children (3 & under)
Chemin-A-Haut State Park is situated on a high bluff overlooking Bayou Bartholomew and is a natural paradise for lovers of unspoiled beauty. This acre site takes its name from the French word meaning "high road," which was the route used by Native Americans many years ago in their seasonal migrations.
Chemin-A-Haut State Park was designed with children in mind. Two playgrounds in the day-use area are a favorite spot of the younger patrons as is the wading pool in the swimming complex. Also, the park's swimming pool is open Memorial Day weekend through Labor Day, so campers and picnickers can refresh themselves on hot summer days. In addition to RV and tent camping, overnight guests can also relax in cabins, some located convenient to the day-use area, while more-secluded units are located on the bayou.
The picnic area includes 35 family sites with grills and tables, five group sites (for up to 24 people), and three shelters. A hard-surfaced trail goes through the picnic area and along the high, scenic banks of Bayou Bartholomew. Rental boats afford visitors an even closer view.
Big Slough Lake, located near the edge of the park, offers an opportunity to fish from the shore. Several varieties of freshwater species can be found there. Take advantage of the beautiful seclusion of this ideal park site. 
Image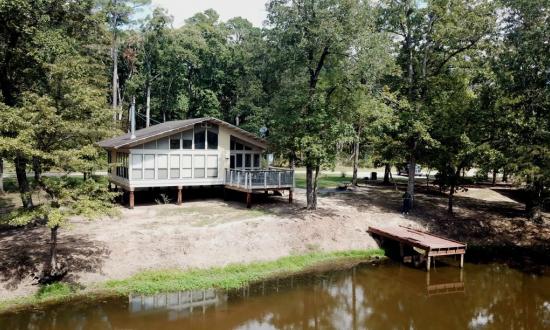 Image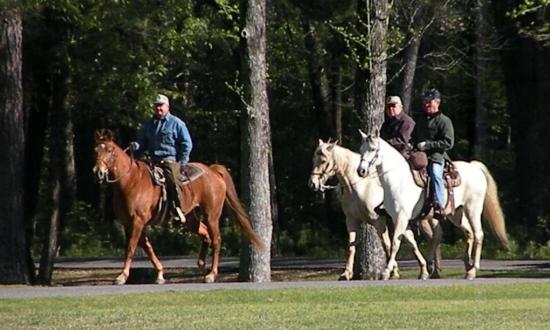 Image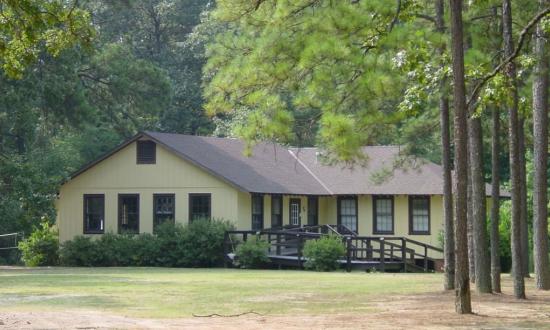 Features
Swimming/Water Playgrounds
Nearby Chemin-A-Haut State Park
Camping
A $4.5 non-refundable fee will be assessed on each reservation transaction made online, via phone, or as a walk-in.
26 Premium Campsites
$33/night plus tax, Fri-Sat
$30/night plus tax, Sun-Thurs, Apr-Sept
$25/night plus tax , Sun-Thurs, Oct-Mar
Water, sewer, and electrical hookup
Primitive camping area
Maximum capacity of 20
America the Beautiful Senior and Access Passes
Other Rates
Equestrian trails at State Parks sites are open to riders and their own horses.  Certification of a clean Coggins test is required for all horses brought on State Park property. It is recommended that you call ahead for the status of the trail.
Horse Per Day Trail Fee
$3/horse per day trail fee, in addition to the day-use entrance of $3 per person, plus tax
Proof of cart insurance required; must be operated by a licensed driver.
Use of Personal Golf Carts on State Park Property
$10/cart per day
$100 annual permit available.
Proof of cart insurance required; must be operated by a licensed driver.
Boat Rentals - Kayaks (single seat)
$7 per hour or $35 per day includes paddle and life jacket
Available April 1 through September 30, includes paddle and life jacket. Additional life jackets can be rented for $2 each where available.
Fishing
From April 1 to October 1, you will only be able to catch and keep Bream, Red Ear and Blue Gill; all other fish must be released immediately.
The shorelines around cabins 7 through 14 is off limits to day use guests and is reserved for cabin occupants only.
No cleaning of fish will be allowed on park grounds.
Trails at Chemin-A-Haut State Park
Bobcat Trail - 1.1 miles
Boy Scout Trail - 1/4 mile
Equestrian Trail - 8 miles
Swimming Pool
Pools are open Memorial Day weekend to August 1 and closed Monday-Wednesday for maintenance, except for holiday Mondays. When pools are open on a holiday Monday, the pools will be closed for maintenance on the Tuesday-Thursday following the holiday Monday.

From August 1 through Labor Day, pools will be open on modified schedules. Please check with the individual parks for specific days and hours of operation. All pool schedules are subject to change.
Birding
A Birder's Guide to Louisiana gives directions to over 100 areas for birding throughout the state, includes maps, Louisiana specialties, and contains beautiful photography and checklists of Louisiana birds and other wildlife. The Guide was produced through a partnership between the Atchafalaya National Heritage Area and the American Birding Association.