Image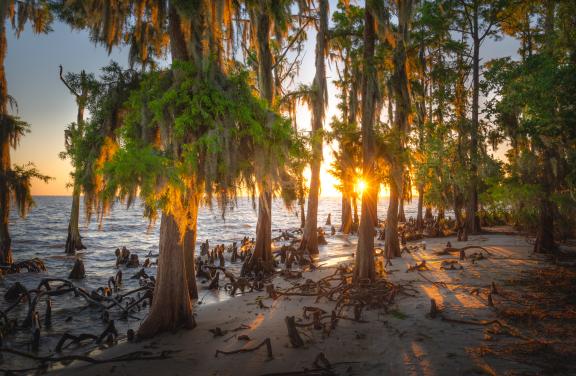 ---
Lake Chicot Drawdown: The Louisiana Department of Wildlife and Fisheries (LDWF) scheduled a drawdown of Lake Chicot beginning September 5, 2023 to reduce giant salvinia and improve fish habitat. The water will be lowered at a rate of 1.5 inches per day until the level reaches 3 feet below normal pool stage.
More Information
Grand Isle State Park is open.  Due to damage caused by Hurricane Ida, the boardwalks are currently closed. Please note, access points to the beach and campsites are limited at this time. The distance from the parking lot to the beach is approximately a 150-yard walk. 
More Information
All boardwalk trails at Tickfaw State Park are currently closed due to severe damage caused by Hurricane Ida.  Two trails are currently open to the public – the hardwood trail and the trail around the fishing pond. 
More Information
Welcome to Louisiana State Parks
Louisiana's state parks and historic sites are a great way for visitors to experience the Sportsman's Paradise. Book a cabin or campsite and see for yourself why our State Parks system is the best!

---





Louisiana State Parks is seeking public-private partnerships to implement projects that enhance visitor experiences and generate additional revenue. A Request for Proposal (RFP) is now open for opportunities available in all state parks. Project examples include both infrastructure and building construction opportunities such as cabins, pavilions, nature centers, road repaving, and RV campground upgrades like adding full sewer hookups. Click the button on the left to learn more. 
Stay in a Louisiana State Park
---
Overnight reservations maybe made for cabins, lodges, group camps and campsites.
Louisiana State Parks Announcements and Press Releases
---
There are many exciting Louisiana State Parks projects underway. Get updates, announcement and the latest news!