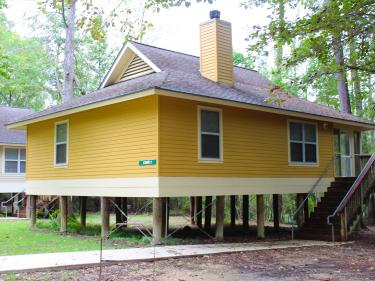 ---
All boardwalk trails at Tickfaw State Park are currently closed due to severe damage caused by Hurricane Ida.  Canoe rentals are also currently unavailable.  Two trails are currently open to the public – the hardwood trail and the trail around the fishing pond. 
More Information
27225 Patterson Road
Springfield, LA 70462-8906
United States
Hours of Operation
Gate Opening Times:
Sunday through Thursday
open at 7 a.m.
close at 10 p.m.
Friday, Saturday and days preceding holidays.
open at 7 a.m.
close at 10 p.m.
Entrance Station Hours:
Sunday through Thursday
Friday, Saturday and days preceding holidays.
Admission/Entrance Fees
$3 per person
Free for seniors (62 & older)
Free for children (3 & under)
Strolling through four ecosystems on over a mile of boardwalks through Tickfaw State Park, visitors can experience the sights and sounds of a cypress/tupelo swamp, a bottomland hardwood forest, a mixed pine/hardwood forest and the Tickfaw River.
Periodically the park site serves the region by detaining floodwaters when winter and spring rains overflow the steep banks of the Tickfaw River. These periods of occasional flooding offer a unique opportunity to educate visitors on the importance of periodic flooding in the cycle of life that makes wetlands an invaluable habitat and breeding ground for wildlife and fisheries.
At Tickfaw State park, you can go night hiking or listen to the swamp nightlife from the porch of your vacation cabin. Check at the Nature Center for scheduled programs. While there, view the 800-gallon aquarium stocked with fish found in the Tickfaw River. There are also displays featuring the animals, history and culture of the area and of Louisiana. Be sure to watch the 8-minute introductory video about the history of the park area.
Bicycle, stroll or skate the interconnecting park roadways. Bring your canoe or kayak and take a fun-filled trip on this unique section of the Tickfaw River. The Water Playground offers refreshing fun for those not quite adventurous enough to explore the swamps and sloughs.
A gift shop in the Nature Center (open 9 a.m. to 4:30 p.m. daily) offers souvenirs with a local flavor.
Image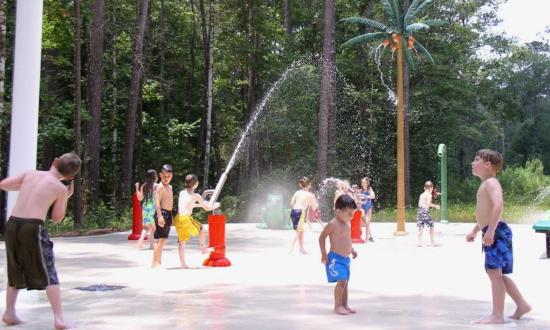 Image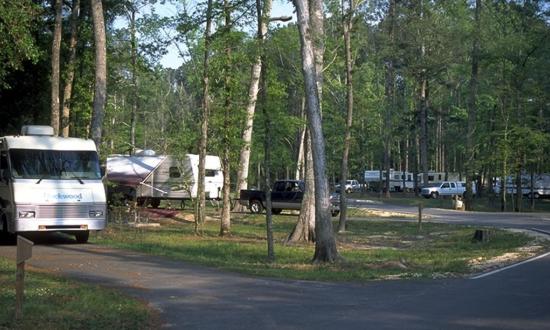 Image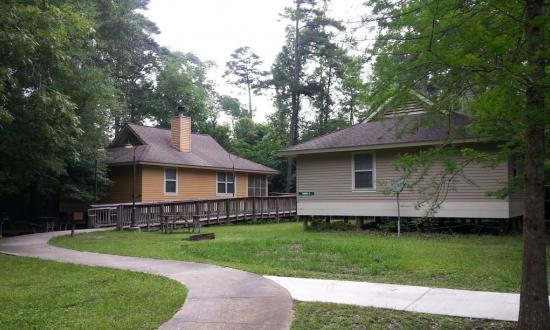 Image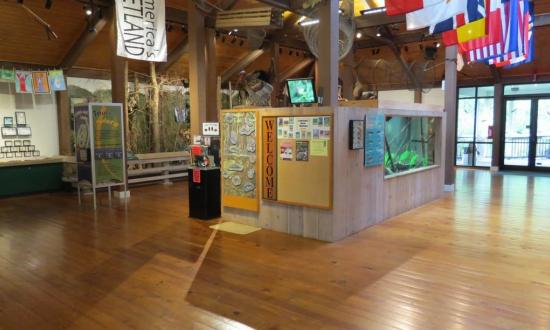 Features
Swimming/Water Playgrounds
Nearby Tickfaw State Park
Facilities
A $4.5 non-refundable fee will be assessed on each reservation transaction made online, via phone, or as a walk-in.
Cabins/Group Camp: Basic cookware, cooking utensils, dinnerware, silverware, towels and linens are provided. Bring your own food and personal supplies; group camp visitors will also need to bring their own dishes, silverware, towels and linens. 
Deluxe Cabins
$150/night plus tax, Sun-Thurs
$175/night plus tax, Fri-Sat
14 available, 2 are ADA compliant; sleeps up to 8 people with 1 double beds, 2 bunk beds and 1 sofa sleeper
Group Camp
Includes dining hall/kitchen and 2 dormitory-style wings, sleeping up to 52 people
Pavilions
2 available; Maximum Occupancy of 60 people, each. *Units are equipped with electrical lighting.
Other Rates
Use of Personal Golf Carts on State Park Property
$10/cart per day
$100 annual permit available.
Proof of cart insurance required; must be operated by a licensed driver.
Canoe Rentals
Includes paddles, life jackets. Additional life jackets can be rented for $2 each where available.
Trails at Tickfaw State Park
Gum Cypress Trail – 1/2 mile (ADA accessible)
Pine Hardwood Trail – 1/2 mile
River Overlook/Bottomland HardwoodTrail – 3/4 mile
River Trail – 3 miles
Water Playground
Louisiana State Parks' water playgrounds operate Tuesdays through Sundays from 8 a.m. to 8 p.m.; the facilities will be closed on Mondays for cleaning and maintenance. Please contact the park directly, to confirm that the playground is open or for additional information.
Birding
A Birder's Guide to Louisiana gives directions to over 100 areas for birding throughout the state, includes maps, Louisiana specialties, and contains beautiful photography and checklists of Louisiana birds and other wildlife. The Guide was produced through a partnership between the Atchafalaya National Heritage Area and the American Birding Association.