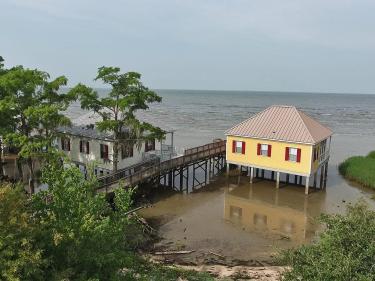 ---
By order of the Louisiana State Fire Marshal, a statewide burn ban remains in effect which prohibits all private burning. The order DOES allow outdoor cooking within contained cooking equipment that is designed for cooking purposes like grills and smokers with a water source or fire extinguisher nearby.  The fuel source for the equipment (propane, charcoal, pellets, etc.) is not a factor in its acceptable use. The use of open flames in fire pits, campfires, barrels, bonfires, etc. remains prohibited at this time.
More Information
Fontainebleau State Park  sustained significant damage from Hurricane Ida in 2021.  Park campgrounds reopened Sept. 24. Cabins remain closed until further notice.
Updated  06/01/2023
More Information
62883 Hwy. 1089
Mandeville, LA 70448
United States
Hours of Operation
Site is open daily.
Gate Opening Times:
Sunday through Thursday
open at 7 a.m.
close at 9 p.m.
Friday, Saturday and days preceding holidays.
open at 7 a.m.
close at 9 p.m.
Entrance Station Hours:
Sunday through Thursday
Friday, Saturday and days preceding holidays.
Admission/Entrance Fees
$3 per person
Free for seniors (62 & older)
Free for children (3 & under)
Fontainebleau State Park received significant damage from Hurricane Ida. Campgrounds reopened on September 24, 2021. Cabins remain closed until further notice.
The crumbling brick ruins of a sugar mill built in 1829 by Bernard de Marigny de Mandeville, founder of the nearby town of Mandeville, suggest an interesting history for this site, and indeed there is. The wealthy Marigny developed this area across Lake Pontchartrain from New Orleans as a sugar plantation until 1852. The plantation income helped support his lavish lifestyle. He named his large landholding Fontainebleau after the beautiful forest near Paris, a favorite recreation area of the French kings.
The 2,800-acre park is located on the shore of Lake Pontchartrain. On a clear day, visitors can see the lake dotted with multi-colored sailboats of all sizes and types. The sandy beach also is a delight for sunbathers. An old railroad track that runs through the park has been converted into the Tammany Trace as a part of the Rails to Trails program. It is a wonderful route for cycling, hiking and in-line skating. After a full day of activities, overnight guests can enjoy the rustic charm of the campground or the scenic setting of the lakefront cabins.
The park's nature trail is a favorite of nature lovers. Interpretive signs along the trail will help you identify many of the common trees and shrubs. Always be on the lookout for birds and other animals, as over 400 different species live in and around Fontainebleau. Bordered on three sides by water – Lake Pontchartrain, Bayou Cane and Bayou Castine – and characterized by a convergence of diverse ecosystems, it has a multitude of habitats for birds.
Image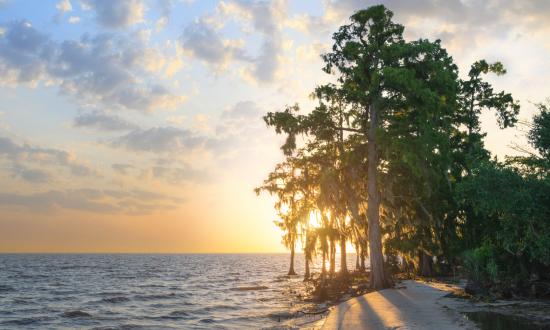 Image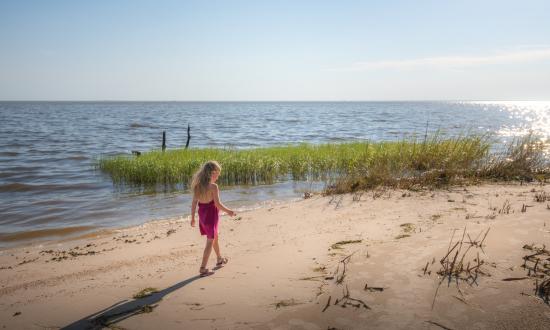 Image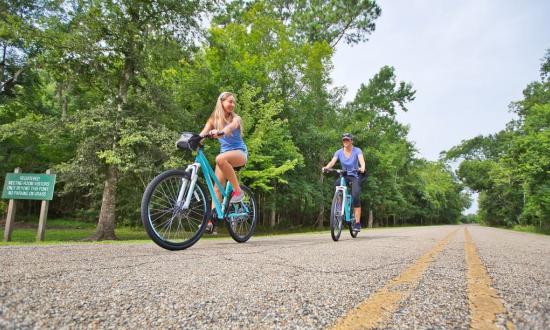 Image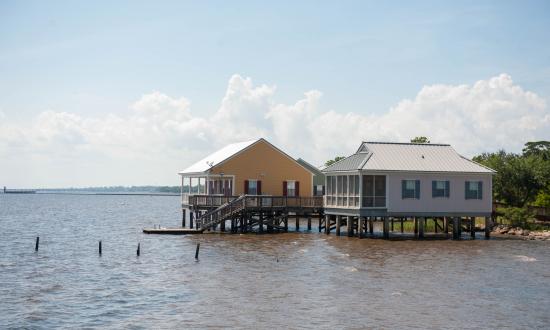 Image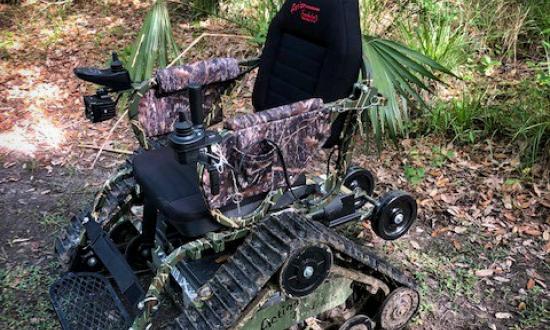 Features
Swimming/Water Playgrounds
Nearby Fontainebleau State Park
Hiking
4.8-mile hiking trail
1-1/4 mile nature trail
Water Playground
Louisiana State Parks' water playgrounds operate Tuesdays through Sundays from 8 a.m. to 8 p.m.; the facilities will be closed on Mondays for cleaning and maintenance. Please contact the park directly, to confirm that the playground is open or for additional information.
Birding
A Birder's Guide to Louisiana gives directions to over 100 areas for birding throughout the state, includes maps, Louisiana specialties, and contains beautiful photography and checklists of Louisiana birds and other wildlife. The Guide was produced through a partnership between the Atchafalaya National Heritage Area and the American Birding Association.
---
Reports on Enslaved Peoples at Fontainebleau
One of two historic markers at the park note the place where slave cabins once stood on the grounds of the former plantation and the other is in memory of the Native Americans who lived in the area prior to European settlement.
Reports on each of the peoples, researched by Jackson Cantrell, a member of BSA Scout Troop 119, Istrouma Area Council, may be found at the below links, or at the park's Visitor Center.
Enslaved People of Fontainebleau