Image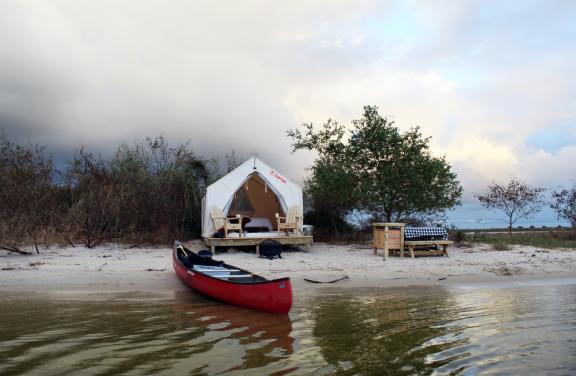 Stay, Play and Explore Near Fontainebleau
Fontainebleau State Park is close to New Orleans and the busy I-10 and I-12 corridors, but it feels like a world apart. Positioned at the Lake Pontchartrain waterfront, it's a park with a fascinating history and scenic views of Louisiana's Northshore region.
The brick ruins of a 19th-century sugar mill, located near Fontainebleau State Park's entrance, hint at the park's origins. Wealthy entrepreneur Bernard de Marigny de Mandeville established a plantation on the shores of Lake Pontchartrain, which he kept until 1852. While Marigny's mark was left throughout the region — the nearby city of Mandeville was named for him, as was a prominent, wealthy New Orleans neighborhood — the plantation he named Fontainebleau was his home.
It's easy to see why Marigny chose this location. Situated on the waterfront, visitors can walk along the beach or on the long pier overlooking the lake. Sunbathing, swimming and picnicking are common sights here, as are sailboats you may see moving lazily across the lake.
Visitors preferring an even closer view of the lake can rent kayaks and paddleboards from Bayou Adventures, located at the east end of the park on Cane Bayou.
The Tammany Trace, a 27-mile converted railroad corridor that is the result of a "rails-to-trails" project, runs through Fontainebleau State Park. Beginning in Slidell and ending in Covington, the Tammany Trace offers visitors so many opportunities to see the Northshore's natural beauty via hiking or biking. Within Fontainebleau State Park, trails include a 4.8-mile hiking trail and an easy, 1.25-mile nature trail.
Fontainebleau State Park isn't just for daytrippers. Overnight guests can choose from staying in RV spots (full hookups are available), primitive camping, cabins and group camps.
Nearby Attractions
Downtown Mandeville is just a 10-minute drive from Fontainebleau State Park. There, you'll find plenty of Northshore charm, thanks to block after block of historical homes, restaurants (The Lakehouse, Nuvolari's Ristorante, Pat Gallagher's 527 Restaurant and Liz's Where Y'at Diner), the lakefront park downtown, historical sites including the Jean Baptiste Lang House & Museum and the Dew Drop Jazz & Social Hall, the latter being a concert venue built in 1895 that still hosts concerts.
There are plenty more reasons to check out Mandeville as well. Breweries including Chafunkta Brewing Company and Old Rail Brewing Company have taprooms that are open to the public, and which have been raising Louisiana's profile in the craft beer industry for years now.
Covington, just west of Mandeville (the cities more or less form a single metro area) is rich in history and modern conveniences. Restaurants (Dakota, The Chimes Covington, Bear's Restaurant and New Orleans Food & Spirits), cafés (Café Du Monde, Campbell's Coffee and Tea and St. John's Coffee House) and shops can be found in Covington. And if you're there in November, make sure you add the Covington Three Rivers Art Festival to your itinerary, showcasing the works of dozens of local crafters and artists.
Finally, there's Slidell, your gateway to the mythic, mysterious Honey Island Swamp. Swamp tour operators including Dr. Wagner's Honey Island Swamp Tours and Pearl River Eco-Tours will get you deep into these ancient waterways, where you'll see the kinds of critters — most notably, alligators — that long ago gave Louisiana a reputation as a true sportsman's paradise (and, in fact, Sportsman's Paradise is one of the state's numerous nicknames).
Follow up your Honey Island Swamp adventure with a trip to Olde Towne Slidell, where you'll find a collection of bars, restaurants and boutiques, including some of the best antique stores in the area. Finish the day dining at the waterfront; options include Palmettos on the Bayou, Phil's Marina Café and The Blind Tiger.