---
By order of the Louisiana State Fire Marshal, a statewide burn ban remains in effect which prohibits all private burning. The order DOES allow outdoor cooking within contained cooking equipment that is designed for cooking purposes like grills and smokers with a water source or fire extinguisher nearby.  The fuel source for the equipment (propane, charcoal, pellets, etc.) is not a factor in its acceptable use. The use of open flames in fire pits, campfires, barrels, bonfires, etc. remains prohibited at this time.
More Information
7777 Westbank Expressway
Westwego, LA 70094
United States
Hours of Operation
Site is open daily.
Gate hours:
Sunday through Thursday
Friday, Saturday and preceding holidays
Entrance Station Hours:
Sunday through Thursday
Friday, Saturday and days preceding holidays
Admission/Entrance Fees
$3 per person
Free for seniors (62 & older)
Free for children (3 & under)
Bayou Segnette State Park offers the best of everything. Just a fifteen-minute drive across the Mississippi River from New Orleans, a multitude of recreational opportunities awaits visitors of all ages -- boating, fishing, camping, canoeing, hiking, picnicking, playgrounds and, of course, swimming in the wave pool, as well as an ecosystem that offers you the chance to spot plants, trees and wildlife from both swamps and marshland.
Both salt and freshwater fishing are available because of the park's unique location. From the boat launch, you may explore many areas not readily accessible by overland routes. Catches of bass, catfish, bream, perch, redfish and trout are common in the area.
On land, picnic areas are available for the whole family, and the playgrounds will delight the children. Group shelters are also a perfect spot for large groups to gather.
After you have splashed the day away in Bayou Segnette's popular wave pool or skipped across any one of the adjacent waterways by boat, you will be glad you took the time to sit back and watch nature at play – for the wildlife is abundant and the vegetation worth closer study.
Image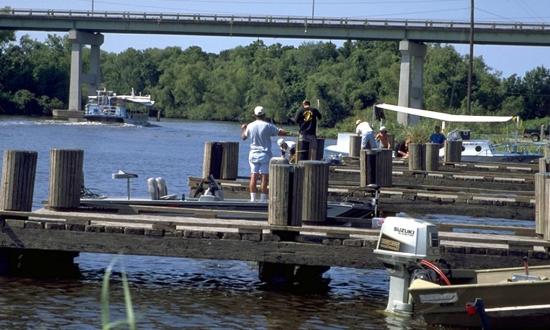 Image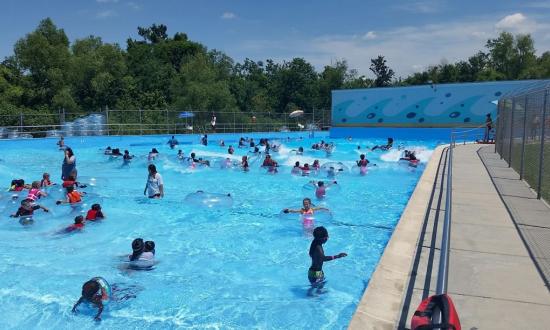 Image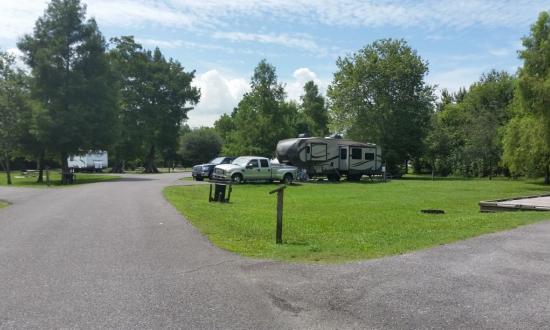 Image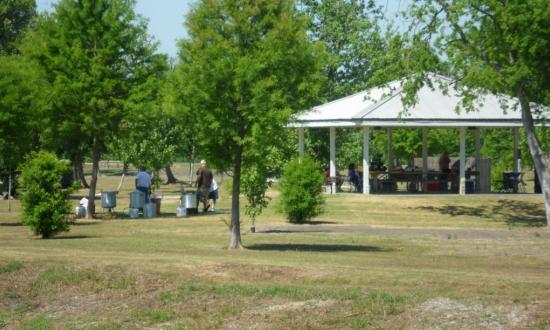 Features
Swimming/Water Playgrounds
Nearby Bayou Segnette State Park
Camping
A $4.5 non-refundable fee will be assessed on each reservation transaction made online, via phone, or as a walk-in.
98 Premium Campsites
$33/night plus tax, Fri-Sat
$30/night plus tax, Sun-Thurs, Apr-Sept
$25/night plus tax , Sun-Thurs, Oct-Mar
All prime location sites, with water and electrical hookup
America the Beautiful Senior and Access Passes
Facilities
A $4.5 non-refundable fee will be assessed on each reservation transaction made online, via phone, or as a walk-in.
Cabins/Lodges/Group Camp: Basic cookware, cooking utensils, dinnerware, silverware, towels and linens are provided. Bring your own food and personal supplies; group camp visitors will also need to bring their own dishes, silverware, towels and linens. 
Deluxe Cabins
$150/night plus tax, Sun-Thurs
$175/night plus tax, Fri-Sat
16 available, 2 are ADA compliant; sleeps up to 8 people with 1 queen bed, 2 bunk beds and 1 sofa sleeper.
Group Camp
Includes dining hall/kitchen and 2 dormitories, sleeping up to 80 people.
Pavilions
$50 per day 5 available; Maximum Occupancy of 40 people, each. $70 per day 2 available; Maximum Occupancy of 60 people, each.
Other Rates
Use of Personal Golf Carts on State Park Property
$10/cart per day
$100 annual permit available.
Proof of cart insurance required; must be operated by a licensed driver.
Trails at Bayou Segnette State Park
Wave Pool is CLOSED UNTIL FURTHER NOTICE
Pool complex entrance fee (in addition to the park entrance fee): $13/adult, $10/child (under 4 ft.)
Pools are open Memorial Day weekend to August 1 and closed Monday-Wednesday for maintenance, except for holiday Mondays. When pools are open on a holiday Monday, the pools will be closed for maintenance on the Tuesday-Thursday following the holiday Monday.
From August 1 through Labor Day, pools will be open on modified schedules. Please check with the individual parks for specific days and hours of operation. All pool schedules are subject to change.
Birding
A Birder's Guide to Louisiana gives directions to over 100 areas for birding throughout the state, includes maps, Louisiana specialties, and contains beautiful photography and checklists of Louisiana birds and other wildlife. The Guide was produced through a partnership between the Atchafalaya National Heritage Area and the American Birding Association.