Image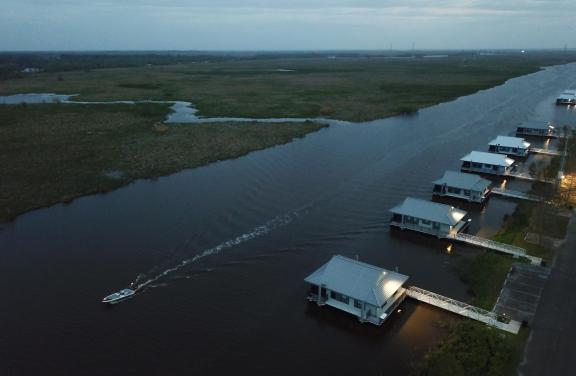 Stay, Play and Explore Near Bayou Segnette
Head a few miles west across the Mississippi River from New Orleans, and an entirely new world opens. Bayou Segnette State Park, located a 30-minute drive from the Crescent City, is an escape from the bright lights, impossible-to-resist Creole cuisine and all-night revelry that has made Louisiana's largest city famous.
Bayou Segnette State Park's seasonal wave pool offers a great way for families on the move to cool off in the Louisiana heat. Make some memories with the kids as they ride inflatable floats on the wavy waters, or relax poolside with the family, cool drink in hand. For those looking for a more serene park experience, there are plenty of options for wildlife viewing and long walks. Alligators, bald eagles and nutria (a massive South American rodent that's found throughout south Louisiana's swamps) are a few of the animals you'll want to keep an eye out for.
You could also float down the bayou, whether by motorboat, canoe or kayak. The cypress-tupelo swamp is dense with wildlife and foliage. Those looking to cast a line will find no shortage of bass, redfish, catfish, trout and perch.
All of this makes for a truly photogenic trip on the water, or off — trails go through Bayou Segnette State Park, offering views of the forest from multiple vantage points.
Once you've seen some of the sights and sounds of Bayou Segnette (and by no means could you see all of the park in one trip!), you can relax in your RV campsite, pitch a tent at the campground or settle in at one of the park's cabins.
Nearby Attractions
Just a few steps away from the park entrance, shop like a local at the Westwego Shrimp Lot where fresh seafood is brought  straight from the Gulf of Mexico and sold direct by the fishermen.
New Orleans' proximity is an obvious draw for travelers to Bayou Segnette State Park. The allure of the French Quarter's restaurants and bars draw visitors by the millions annually. Fine dining at restaurants such as Domenica, Justine, Restaurant R'evolution and Coquette, casual dining at Melba's, Casamento's Restaurant and Central Grocery, live music at Preservation Hall, Snug Harbor Jazz Bistro and Tipitina's and, of course, Mardi Gras parades galore during Carnival season, are all within just a short drive of Bayou Segnette.
While the Crescent City lures anglers and campers to this State Park, there are many other attractions within a few miles from Bayou Segnette. The Great River Road, an approximately 70-mile stretch of highways between New Orleans and Baton Rouge, hugs the Mississippi River. It's the site of many of Louisiana's most prominent historic homes and plantations, some of which have been turned into museums. Destrehan Plantation, among Louisiana's oldest (built in 1787) is just a 20-minute drive from Bayou Segnette State Park.
Find an outdoor adventure of a completely different kind at NOLA Motorsports Park in Avondale. At this closed-track facility, you can race against other competitors on a go-kart course that offers plenty of twists and turns. Thrill-seekers can also bring their own car to the track for some heart-pumping action on the asphalt, pushing speeds that you would not want to try on the open highway.
Golfers, take note: TPC Louisiana is an award-winning championship golf course that was named one of the top five "best upscale golf courses" by Golf Digest magazine soon after it opened to the public in 2014. It's the host of the PGA's Zurich Classic of New Orleans, which is just one of many events held at the course throughout the year.
Want even more outdoor adventure? Look no further than Jean Lafitte National Historical Park & Preserve's Barataria unit, a wildlife haven that is among Louisiana's handful of national parks; and Airboat Adventures, a Lafitte business that will get you on the water and up close to nature via a high-powered airboat that coasts along the Barataria Bay's waters so smoothly, you might feel like you're flying.