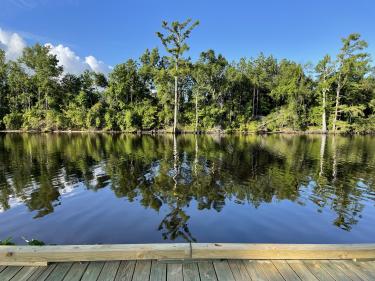 107 Sutherland Road
Lake Charles, LA 70611
United States
Hours of Operation
Site is open daily.
Gate Opening Times:
Sunday through Thursday
open at 6 a.m.
close at 10 p.m.
Friday, Saturday and days preceding holidays.
open at 6 a.m.
close at 10 p.m.
Entrance Station Hours:
Sunday through Thursday
Friday, Saturday and days preceding holidays.
Admission/Entrance Fees
$3 per person
Free for seniors (62 & older)
Free for children (3 & under)
Originally named for the Texas folk hero who traveled extensively in the western reaches of Louisiana, Sam Houston Jones was given its current name in honor of the state's 46th governor, who was instrumental in setting aside this tract of land for the public to enjoy for both day-use and overnight visitors.
Because the caretakers of this 1,087-acre park have worked to keep the land in its natural state, abundant wildlife inhabits the area. Tree-filled lagoons and a mixed pine and hardwood forest combine to create a unique natural environment. The park is located just north of the most productive birding region of Louisiana. The bird watching is always excellent, but at certain times of year, nearly 200 species of birds can be seen at or within 30 miles of the site.
The Office of State Parks has partnered with Sasol in Lake Charles on the Longleaf Legacy Project,  to preserve the iconic tree's rich history, restore the splendor of local forests, and ensure the resiliency of such habitats for generations to come.  The project includes restoration of over 70 acres of longleaf forest in the park and companion educational programs for local teachers and families.
Sam Houston Jones State Park is home to more than 70 acres of longleaf pines, the oldest living southern pine species. They were once one of the most abundant tree species in the United States, stretching across 90 million acres from Virginia to Texas. Over time, land-use practices such as logging, farming, development, urban encroachment, and fire exclusion have diminished the longleaf pine, leaving less than 4 million acres of longleaf forest and less than 10 percent of their original presence in Louisiana.
The numerous waterways in this area make water sports a natural highlight at the park. Two boat launches are conveniently located on the West Fork of the Calcasieu River, providing access to Calcasieu Lake, about 20 miles away.
The three hiking trails winding through this beautiful park make strolling or serious hiking, pleasurable. Particularly interesting is the old stagecoach road, which hikers may travel to explore the park and the banks of the various tributaries to the Calcasieu River.
Image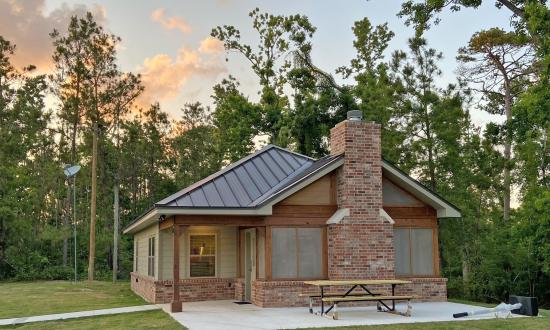 Image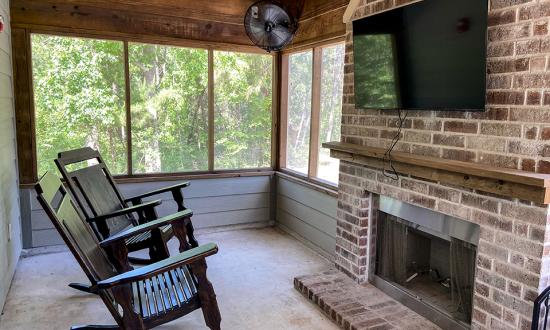 Image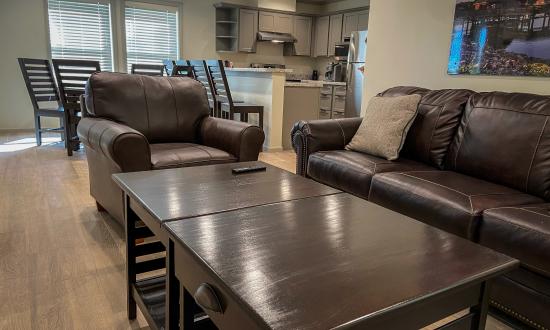 Image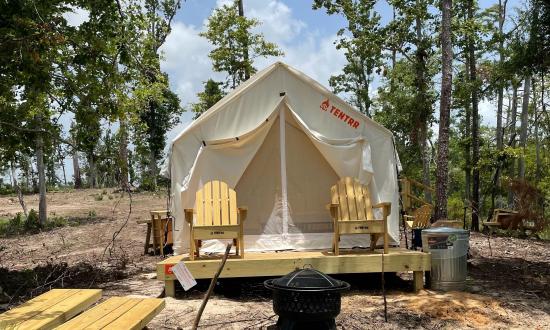 Image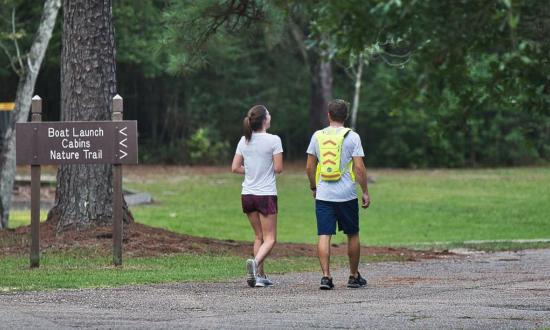 Image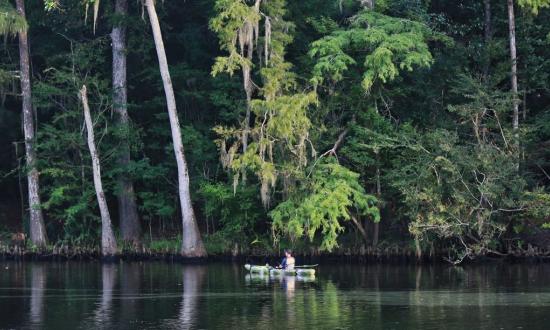 Image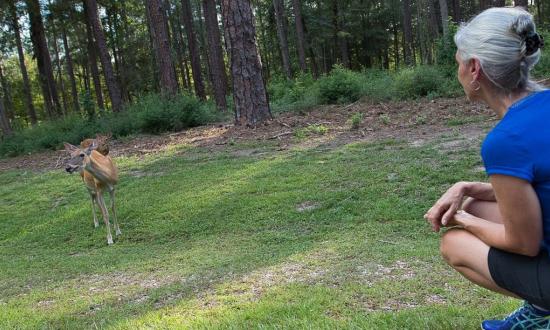 Nearby Sam Houston Jones State Park
Facilities
A $4.5 non-refundable fee will be assessed on each reservation transaction made online, via phone, or as a walk-in.
Cabins: Basic cookware, cooking utensils, dinnerware, silverware, towels and linens are provided. Bring your own food and personal supplies.
Deluxe Cabins
$150/night plus tax, Sun-Thurs
$175/night plus tax, Fri-Sat
10 available, 1 is ADA compliant; sleeps up to 8 people with 1 queen bed, 2 bunk beds and 1 sofa sleeper.
Deluxe Lodge
$175/night plus tax, Sun-Thurs
$225/night plus tax, Fri-Sat
1 available, ADA compliant; sleeps up to 14 people with 2 queen beds, a queen sofa sleeper and 4 bunk beds
Pavilions
$70/day Maximum Occupancy of 60 people.
$120/day Maximum Occupancy of 100 people.
*Units are equipped with electrical lighting.
Other Rates
Use of Personal Golf Carts on State Park Property
$10/cart per day
$100 annual permit available
Proof of cart insurance required; must be operated by a licensed driver.
Boat Rentals
Boat Rentals Temporarily Discontinued
Due to excessive vegetation in the lake, the park will discontinue boat rentals until conditions are safe for boat traffic. We apologize for any inconveniences this may cause.
Hiking
Riverwalk Trail – 1.6 miles
Cypress Tupelo Trail – 1/2 mile
Swamp Walk Trail – 1.1 miles
Longleaf Pine Trail – 3-1/2 miles
Longleaf Pine Extension – 1.3 miles
Disc Golf
Bob Rodgers Memorial Disc Golf Course :
Sam Houston Jones SP offers disc golf; the course is located near the trailhead of the Longleaf Pine Trail. Click HERE for a full-size map.
Birding
A Birder's Guide to Louisiana gives directions to over 100 areas for birding throughout the state, includes maps, Louisiana specialties, and contains beautiful photography and checklists of Louisiana birds and other wildlife. The Guide was produced through a partnership between the Atchafalaya National Heritage Area and the American Birding Association.