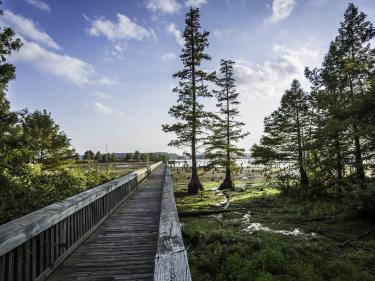 3628 Evergreen Road
Farmerville, LA 71241
United States
Hours of Operation
Site is open daily.
Gate Opening Times:
Sunday through Thursday
open at 6 a.m.
close at 10 p.m.
Friday, Saturday and days preceding holidays.
open at 6 a.m.
close at 10 p.m.
Entrance Station Hours:
Sunday through Thursday
Friday, Saturday and days preceding holidays.
Admission/Entrance Fees
$3 per person
Free for seniors (62 & older)
Free for children (3 & under)
Piney forests, rolling hills, five fishing piers, and a beautiful lake draw visitors to this quiet, majestic state park. Designed to keep the focus on nature, park facilities blend with the natural landscape to enhance the outdoor experience of this 655-acre park.
Fishing piers and boat docks attract visitors to Lake D'Arbonne, the marvelous 15,250-acre centerpiece of the park. Recreation on Lake D'Arbonne is tremendously popular among locals and visitors, and record freshwater catches of bass, crappie, catfish and bream make Lake D'Arbonne a fishing haven. Wide open areas of the lake, about seven miles from the park, appeal to water skiers and pleasure boaters. The boat launch at the park opens up all of these opportunities to outdoorsmen.
Tree stands in the lake captivate photographers, as do the towering pines on land and the rich diversity of wildlife and birds that make the park their home. Bring your binoculars and camera to capture the wonders of the natural world from our beautiful nature trails.
Cyclists will enjoy the challenge of the rolling hills of the park as a starting point for biking excursions into the steep inclines and scenic beauty of North Louisiana. Lighted tennis courts add to the activity options available for all visitors. Return for a picnic under the canopy of pine trees and celebrate the magnificence of nature preserved.
Image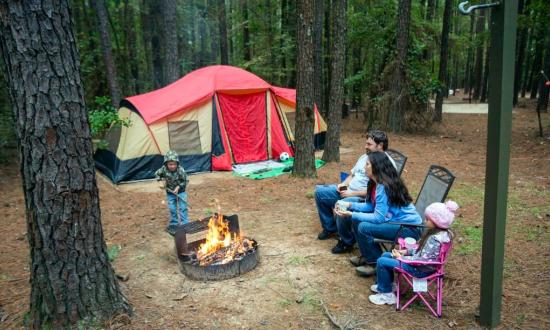 Image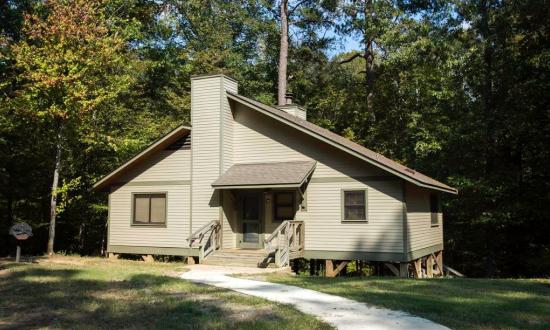 Image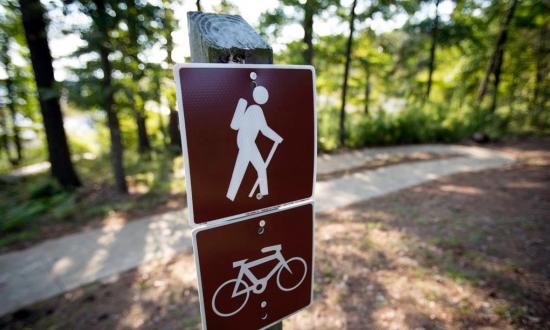 Image
Features
Swimming/Water Playgrounds
Nearby Lake D'Arbonne State Park
Camping
A $4.5 non-refundable fee will be assessed on each reservation transaction made online, via phone, or as a walk-in.
7 Premium Campsites
$33/night plus tax, Fri-Sat
$30/night plus tax, Sun-Thurs, Apr-Sept
$25/night plus tax, Sun-Thurs, Oct-Mar
All prime location campsites, with water and electrical hookup
51 Improved Campsites
$28/night plus tax, Fri-Sat
$25/night plus tax, Sun-Thurs, Apr-Sept
$20/night plus tax, Sun-Thurs, Oct-Mar
Improved campsites have water and electrical hookups.
America the Beautiful Senior and Access Passes
Other Rates
Use of Personal Golf Carts on State Park Property
$10/cart per day
$100 annual permit available.
Proof of cart insurance required; must be operated by a licensed driver.
State Park Boat Rentals
Kayaks-$7 per hour/$35 per day.
Includes 2 paddles and 3 life jackets. Additional life jackets can be rented for $2 each where available.
Tennis Courts
Available for overnight guests and for day-use visitors with payment of entrance fee. Courts must be reserved at Visitors Center prior to play.
Trails at Lake D'Arbonne State Park
Trails at Lake D'Arbonne State Park
Orange Trail – 1 mile
Green Trail – 1/2 mile
Blue Trail – 1/2 mile
White Trail – 4 miles
Disc Golf
Lake D'Arbonne SP offers disc golf; the course is located near the group camp. Click HERE for a full-size map.
Swimming Pool
Pools are open Memorial Day weekend to August 1 and closed Monday-Wednesday for maintenance, except for holiday Mondays. When pools are open on a holiday Monday, the pools will be closed for maintenance on the Tuesday-Thursday following the holiday Monday.
From August 1 through Labor Day, pools will be open on modified schedules. Please check with the individual parks for specific days and hours of operation. All pool schedules are subject to change.
Birding
A Birder's Guide to Louisiana gives directions to over 100 areas for birding throughout the state, includes maps, Louisiana specialties, and contains beautiful photography and checklists of Louisiana birds and other wildlife. The Guide was produced through a partnership between the Atchafalaya National Heritage Area and the American Birding Association.