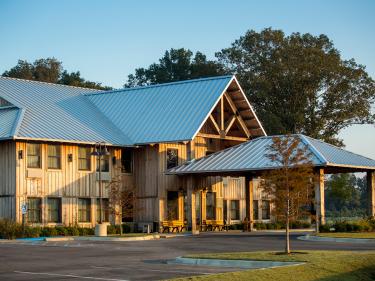 231 Black Bear Dr.
Delhi, LA 71232
United States
Hours of Operation
Lodge Front Desk Hours
Mon - Thu: 7:00 am-8:00 pm
Fri - Sat: 6:30 am-10:00 pm
Sun: 7:00 am-8:00 pm
Check-In & Check-Out Times 
Check-In is 3:00 p.m. and Check-Out is 12:00 p.m.
Admission/Entrance Fees
Forms of Payment
We accept Cash, Check, Visa, MasterCard, Discover and American Express.
Taxes
All rates are subject to State and Parish taxes that are the equivalent of 8%.
Welcome to Black Bear Lodge! This 17-room hotel for visitors to Black Bear Golf Club provides a great place to unwind after your day at the course. With course-view rooms, a swimming pool and tennis courts, you'll enjoy your "home away from home."
Black Bear Lodge has a total occupancy of 62 people with double rooms, king rooms and two suites. Sip your morning coffee while overlooking the greens and plan your strategy for attacking the 18-hole championship layout just a short stroll away.
The lodge and golf club are named for the Louisiana black bear, which are often sighted on or near the reservoir. Special attention should be given to any bear sightings as the eastern edge of Bayou Macon contains attractive bear habitat. Visitors are cautioned to not approach the bears.
Please note that Black Bear Lodge is a non-smoking and pet-free facility.
Rates & Specials
Golf & Lodging Package
15% off hotel room rate and greens fees when purchased together. Vouchers for golf play are available at the Lodge.
---
Nightly Rates (tax not included)
|   | Weekdays | Weekends & Holidays |
| --- | --- | --- |
| Double Room | $135 | $145 |
| King Room | $115 | $125 |
| Queen Room | $155 | $165 |
| King Suite | $175 | $185 |
Includes free breakfast at the restaurant next door; some exclusions apply.
---
Lodge Amenities
Saltwater swimming pool
Tennis court
Covered Drop off
Card Key Access
Free WIFI
Direct TV with Golf Channel and ESPN
In-room coffee pots
Drink and Snack Vending Machines
Free breakfast – certain exclusions apply.
Rooms with golf course views
First floor - 101, 103, 105, and 107
Second floor (each with private balcony) - 201, 203, 205, 207, and 209.